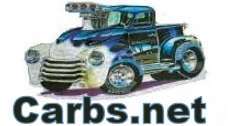 High Performance

For the Chevy and
Ford, 4 x 48 IDF Carbs
Manifold and Stacks

Dual Quads *
Designed for 262-400 c.i.d. S/B Chevys. This dual-quad is low profile for hood
clearance on most vehicles. Air-conditioning bosses and front oil filler tube boss
included. Stock alternator brackets do not fit.

Manifold #5425


Carbs #1404
500CFM


Linkage #7094


Fuel Line #8088



Tunnel Ram *
Designed for 302-327-350-400 c.i.d. small-block Chevy V8s operating below
7500 rpm where low-end torque is not a prime factor. Great for engines with stock or slightly modified cylinder heads. Applicable to street machines, street
rods, pro street and marine. Will not fit 1987 and later cast iron cylinder heads

Manifold #7110


Tri-Power *
Designed for 283-302-305-307-327-350-400 c.i.d. Chevy V8s. This manifold has a balanced 180° firing order port runner arrangement. It contains an exhaust gas heat riser and offers excellent performance potential. Front oil filler tube boss
included. Carb center-to-center: 5-1/2".

Prices subject to change without notice.
*Not legal for sale or use on pollution controlled motor vehicles.


E-Mail sales@carbs.net


This Site Designed By
EagleServer WebSite Design