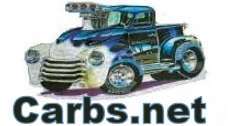 Demon Carbs & Prices
Back to Holley Main Page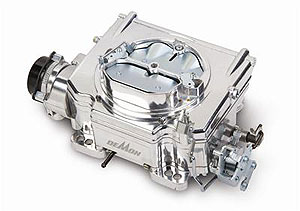 Need a Part not listed check out

then call 253-833-4106 with part #



The Street Demon® redefines the street carburetor with clean looks and ease of use! It offers enthusiasts a straight–forward carburetor designed to deliver a stable idle, amazingly crisp throttle response and smooth performance. Its optimized calibration and dual mounting pattern make it Run–Ready™ for a large variety of engines and vehicles! Available in Hand Polished, Tumble Polished or Tumble Polished with Aerospace Composite Bowl for significant heat insulating benefits. Get one today and experience Performance That's Out of This World!
Demon Carburetors
DEM-1900
Demon 625 cfm Street Demon Burnished Finish
Electric choke Vacuum Secondary - Integrated 700R4/200R4 transmission kickdown cable mounting location - Ford automatic transmission kickdown
---
DEM-1902
Demon 625 cfm Street Demon Polished Finish
Electric choke Vacuum Secondary - Integrated 700R4/200R4 transmission kickdown cable mounting location - Ford automatic transmission kickdown
---
DEM-1903
Demon 750 cfm Street Demon Burnished Aluminum
Vacuum secondaries and electric choke Integrated 700R4/200R4 transmission kickdown cable mounting location as well as Ford A/T kickdown for proper shifts Integrated fuel bowl/main body design with gasket above fuel level and no plugged passages to eliminate all potential leak paths
---
DEM-1904
Demon 1904 750 CFM Polymer with Ball Burnished Aluminum Street Demon Carburetor
Vacuum secondaries and electric choke Integrated 700R4/200R4 transmission kickdown cable mounting location as well as Ford A/T kickdown for proper shifts Integrated fuel bowl/main body design with gasket above fuel level and no plugged passages to eliminate all potential leak paths
---
DEM-1904BK
Demon 1904BK 750 CFM Polymer Bowl Black Street Demon Carburetor
Vacuum secondaries and electric choke Integrated 700R4/200R4 transmission kickdown cable mounting location as well as Ford A/T kickdown for proper shifts Integrated fuel bowl/main body design with gasket above fuel level and no plugged passages to eliminate all potential leak paths
---
DEM-1901
Demon 625 cfm Street Demon Black Burnished composite fuel bowl
Vacuum secondaries and electric choke Ball-burnished shiny aluminum finish Black composite fuel bowl
---
Dont see what you looking for CALL 253-833-4106 or Email
Need a Part not listed check out Holley Web Site then call 253-833-4106 with part #
Prices Subject to change without notice
---
---


E-Mail sales@carbs.net


This Site Designed By
EagleServer WebSite Design for Carbs Unlimited [terms & policies]